Smoking & COPD: Overview of disease/conditions
This 2015 research journal, revealed that former smokers who had quit smoking for ≥10 years had a lower prevalence of COPD and respiratory symptoms than current smokers. It also reveals how many years of smoking to develop COPD, proves cigarette smoking is one of the leading COPD causes and that the prevalence of COPD was higher in women than in men at all levels of smoking duration. Lets Read full article to know relation between Smoking & COPD.
What is COPD?
Chronic Obstructive Pulmonary Disease is a chronic disease of the lungs causing inflammation leading to blocked or obstructed airflow from the lungs. COPD is the leading cause of emphysema and chronic bronchitis.
COPD patients are at an increased risk of developing lung cancer, heart disease and various other health complications.
Smoking & COPD
Source: Animated COPD Patient
Symptoms of COPD:
Mostly the symptoms do not reveal in early cases, until a significant damage has been caused to the lungs. This may include symptoms like:
Frequent cough with mucous (sputum) production that may be clear, white, yellow or greenish in colour depending on the severity of the disease.
Tiredness or frequent lethargy
Chest tightness
Difficulty breathing
Shortness of breath due to any physical exertion
Wheezing
Swelling in ankles, feet or lower leg
Flail chest due to severe weight loss as disease progresses in later stages
COPD Inhalers Chart: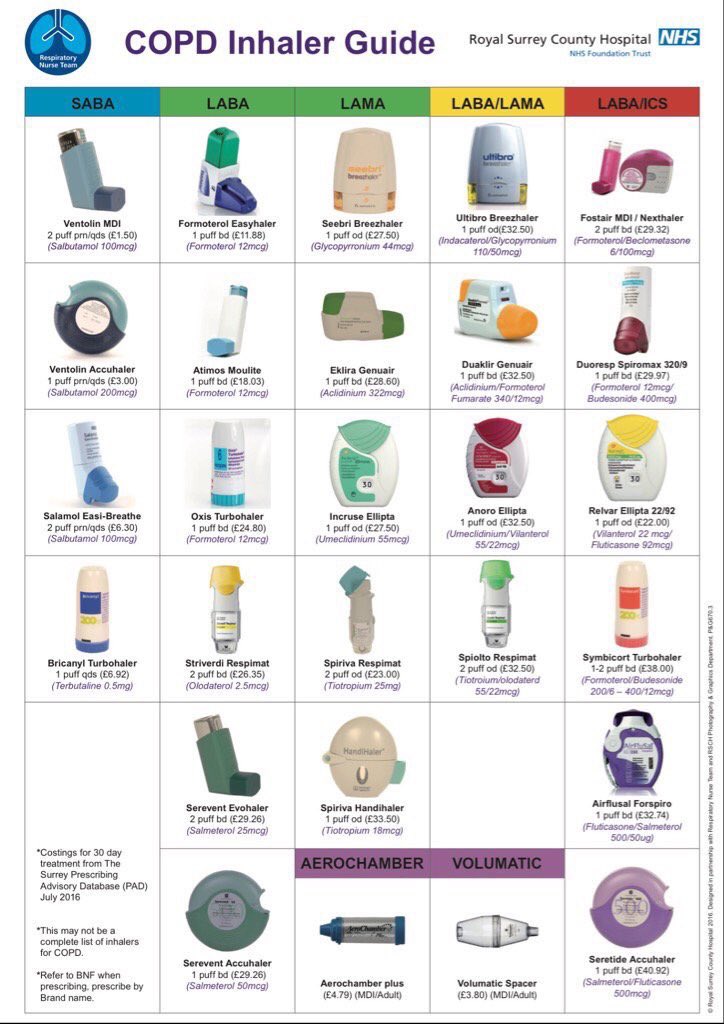 *Image from NHS
COPD Prevention:
The best preventive method of COPD is to quit smoking, even though e-cigarettes are available to quit smoking.
E-cigarettes, are relatively new tobacco products and being evaluated currently for their impacts on health. E-cigarette use or "vaping" is still harmful to your lungs. Some E-cigarette aerosols have been found to contain some of the same chemicals in cigarettes, including the lung irritant acrolein, and formaldehyde, which adversely harms the throat. Flavouring chemicals used in E-cigarettes like caramel, toffee, and chocolate contain the chemicals diacetyl and acetoin, fruit flavour also has higher concentrations of a harmful chemical called acrylonitrile, which is a known respiratory irritant and causes harm to lungs.
To quit smoking, can lower the risk of getting cancer. The risk of Larynx cancer is reduced immediately, the risk of Lung cancer could drop by 50 percent after quitting for 10 years. Mouth and throat cancers can also drop by as much as 50% after quitting for five years.
Anyone who quits smoking will experience better overall health. The carbon monoxide level in your blood drops to normal, just 12 hours after quitting which allows more oxygen circulation to your organs.
COPD Treatment:
Apart from preventive measures, treatment for COPD includes bronchodilators that comes in the form of inhalers which help relax the airway muscles and prevent breathing difficulties. Some of the short and long acting bronchodilators include Albuterol, Ipratropium, Salmeterol and Aclidinium.
Then there are the inhaled corticosteroid medications that prevent exacerbations of COPD and help reduce the effects of airway inflammation. Some of these inhaled steroids include Budesonide and Fluticasone.
Phospodiesterase 4 inhibitors, are approved for severe COPD patients to help relax the airways and reduce the severe inflammation responsible for shortness of breath and lung infection. Roflumilast is one such popular Phosphodiesterase 4 inhibitor prescribed.
Apart from medications, lung therapies such oxyge therapy and pulmonary rehabilitation programs are also advised as part of an effective treatment for COPD. These treatments deliver supplemental oxygen during activities or sleep and combine educative programs related to exercise training, advice in daily nutrition diet and counselling.
Lowest Price for common COPD inhalers
| INHALERS | PRICE | SHOP |
| --- | --- | --- |
| GENERIC ADVAIR/SERETIDE 50/25MCG/120MDI | $18.33 FOR 1 UNIT | BUY |
| GENERIC SYMBICORT (BUDESONIDE/ FORMOTEROL)100-6 MCG/120MDI | $23.96 FOR 1 UNIT | BUY |
| GENERIC ATROVENT (IPRATROPIUM BROMIDE) 20MCG/200MDI | $16.78 FOR 1 UNIT | BUY |
| GENERIC COMBIVENT RESPIMAT 50/20MCG/120MDI | $32.15 FOR 1 UNIT | BUY |
| GENERIC PULMICORT INHALER 100MCG/200MDI | $20.17 FOR 1 UNIT | BUY |
| BRAND TRELEGY ELLIPTA 100/62.5/25MCG (EQUIV 92/55/22MCG) | $106.75 FOR 1 UNIT | BUY |
| BRAND ANORO ELLIPTA 55/22MCG | $96.61 FOR 1 UNIT | BUY |
Related Blogs:
References: