Symbicort (Budesonide / Formoterol)
This medication is intended to treat and prevent the symptoms of asthma and chronic lung disease. Budesonide and Formoterol are the two drugs in it. Budesonide belongs to the corticosteroid class of medicines. It helps by alleviating airway irritation and edema. Long-acting beta-agonists, such as formoterol, works by relaxing the muscles surrounding your airways, allowing you to breathe more easily.
Select your dosage below to view available brand and generic Symbicort cost and place your order. Save up to 90% by using our Budesonide / Formoterol coupon.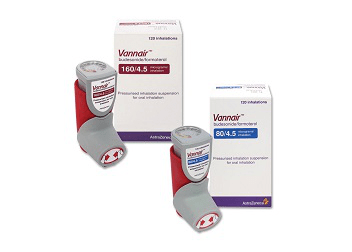 *Product image is for reference only
BUY SYMBICORT INHALER (BUDESONIDE/FORMOTEROL) ONLINE : MEDICINE INFORMATION
Therapeutic Class: Allergies & Sinus/Asthma: Symbicort Inhaler (Budesonide/Formoterol).
Active Ingredient: The active ingredients present in Symbicort Inhaler are Budesonide and Formoterol.
Drug Information: Symbicort Inhaler contains a combination of Budesonide and Formoterol. It is used to treat asthma in any person aged 6 years or above.
How does this combination drug work?
Budesonide falls under the group of medications called 'corticosteroids'. It exerts its action by lowering and preventing inflammation in your lungs, while Formoterol is a 'long-acting beta2 adrenoceptor agonist' in other words, 'bronchodilator'. It acts by relaxing the muscles in your airways. And this aids you to inhale air more easily.
How to use this inhaler?
It is a prescription drug and must only be used after talking to a doctor. Prior to initiating treatment with Symbicort, the risk of hypersensitive reactions as well as negative side effects are required to be discussed with the concerned doctor. Patients should inhale the active medicament by means of a specially-formulated device. It must be administered one time every day as part of an ongoing maintenance regime. The medicine is not for treating the onset or acute breathing problems.
In case of missed dose:
If, for any reason, you miss out taking a dose of this capsule, take it as soon as possible. On the other hand, if it is roughly the time for your next capsule, you can miss out the dose that you forgot taking. Never take two doses to compensate for a missed one.
Side effects:
The most common side effects of this combination may include:
Palpitations

Shaking or trembling or shaking

Headache

Thrush (a fungal infection) in the mouth

Sore throat as well as cough
If any of these effects occur, they are generally mild and usually fade away as you carry on using Symbicort Inhaler. Also stop the use if you experience: hives, faint feeling, or breathing problem.
Which drugs are known to interact with Symbicort inhaler?
Inform your doctor if you plan on using this medication while taking any of the following drugs:
Other bronchodilators (including salbutamol).

Medicines for an uneven heartbeat.

Medicines used to treat heart failure.

Medications for Parkinson's disease.

Beta-blockers (used to treat high blood pressure).

Medicines used for the treatment of HIV.

Steroid tablets (also used for asthma treatment).

Medications for thyroid problems.

Diuretics (also known as water tablets) used to treat high blood pressure.

Xanthine medicines (such as theophylline or aminophylline).

Mono-Amine Oxidase Inhibitors (also known as MAOIs); tricyclic anti-depressants.

Phenothiazine medicines.

Certain medications used to treat infections (for example, itraconazole, ketoconazole).

What are the precautionary measures to be undertaken while using Symbicort Inhaler?

You must not use this inhaler if you are hypersensitive to any of the ingredients, such as budesonide, formoterol, or lactose.

Also inform your doctor or healthcare professional if you have problems with your thyroid or adrenal glands.

If you suffer from high blood pressure or a heart problem; then also this drug is not safe for you.

Avoid the use of Symbicort inhaler if you are diabetic.

If you have a lung infection, then avoid the use of this combination inhaler.

Budesonide/Formoterol must also not be used if you have severe liver problems.

Patients with low levels of potassium in their blood must also refrain from the use of this inhaler.
Is It Safe To Buy Symbicort Inhaler From A Online Pharmacy?
If you are looking to buy Symbicort Inhaler or any prescription drugs from an Online Pharmacy in USA then you can order from a safe and accredited International pharmacy like MedsEngage, which contracts with Canadian Pharmacy and pharmacy in India. you requires a valid prescription for your prescription drugs.
Symbicort Coupons Available?
Take advantage of this Symbicort Inhaler Coupon, available only at our Canadian Pharmacy Online! We help lower your Symbicort Inhaler and Symbicort Inhaler price with our helpful Pharmacy coupons. For coupons, please visit our Prescription Coupon page.