It is a drug that is used to treat and prevent asthma symptoms (such as wheezing and shortness of breath). Montelukast is also used to treat hay fever and allergic rhinitis symptoms (such as sneezing and a stuffy, runny, or itchy nose). To be successful, this drug must be used on a daily basis. Use your quick-relief inhaler as directed if you have an asthma attack or experience sudden shortness of breath.
Select your dosage below to view available brand and generic Singulair cost and place your order. Save up to 90% by using our Montelukast coupon.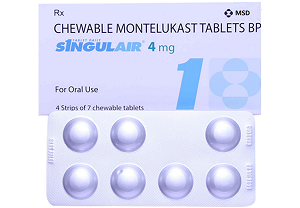 *Product image is for reference only
Singulair (Montelukast): MEDICINE INFORMATION
Therapeutic Class: Allergies and Sinus: Singulair (Montelukast)
Active Ingredient: The active ingredient present in Singulair is Montelukast.
Drug Information: Singulair is the brand name of an anti-allergic medication named Montelukast. It is indicated in preventing asthma and seasonal allergies. It can also be used to prevent exercise-induced bronchospasm in adults and children who are at least 6 years in age.
What is the mechanism of action of Singulair?
Monteleukast is a leukotriene receptor antagonist; that is it inhibits a chemical known as leukotriene, which helps to lower down certain asthma and hypersensitivity signs.
Directions for use:
Take Singulair precisely as per the doctor's recommendations. Avoid taking it in larger or smaller amounts or for longer duration than advisable dosage. This medicine is usually taken once daily in the evening for preventing asthma or allergy signs. For exercise-induced bronchoconstriction, a single dose of Singulair is taken at least 2 hours before you exercise, and do not take another dose for at least 24 hours. The whole tablet is swallowed as such with a full glass of water without breaking, chewing or crushing. If you already consume this medication to prevent asthma or allergy signs, avoid its use it for exercise-induced bronchoconstriction. It is suggested to take the tablet 2 hours before exercising if you have exercise-induced asthma.
In case of missed dose:
Take the missed dose of Singulair tablet the moment you remember about it. Skip the missed dose if it is roughly the time for your next planned dose. Avoid the consumption of an extra medicine to make up for the missed dose.
Side effects:
The most common ill effects that accompany this drug may include:
Abdominal pain
Acidity
Nausea
Vomiting
Diarrhea
Fatigue
Headache
Fever
Stuffy nose
Sore throat
Tooth pain
A mild rash
Get an urgent medical help if you face any of signs of an allergic reaction to Singulair including hives; difficulty breathing; inflamed face, lips, tongue, or throat. Call your physician at once if you have serious side effects such as: mood or behavior changes, tremors or shaking; skin rash, bruising, numbness, pain, muscle weakness, severe tingling, anxiety, depression, easy bruising, unusual bleeding; severe sinus pain, worsening asthma symptoms.
Is it safe to take Singulair with other drugs?
Few medications are not safe when you take them with Singulair tablet as it may result in certain bad side effects. So ensure to speak to your doctor about all the drugs you take. Some of these medications are:
Phenytoin
Rifampin
Phenobarbitone
Theophylline
What are the precautionary measures to be implemented while taking Singulair tablet?
Singulair tablet can make you feel drowsy, sleepy, weary, or may lower down your mental alertness. If this occurs, do not drive or carry out any physical activity which demands mental attentiveness.
The medication must be used with caution in patients with serious liver illness.
It may result in too much drowsiness if used with alcohol. Thus limit the intake of liquor along with this drug.
Is it safe to buy Singulair from a Online Pharmacy?
If you are looking to buy Singulair or any prescription drugs from an Online Pharmacy in USA then you can order from a safe and accredited International pharmacy like MedsEngage, which contracts with Canadian Pharmacy and pharmacy in India. you requires a valid prescription for your prescription drugs.