It is a medication that is used to treat depression. It has the potential to increase your attitude, sense of well-being, and energy level. It works by assisting in the restoration of the brain's natural chemical equilibrium (serotonin and norepinephrine). For more information, consult your doctor or pharmacist.
Select your dosage below to view available brand and generic Pristiq cost and place your order. Save up to 90% by using our Desvenlafaxine coupon.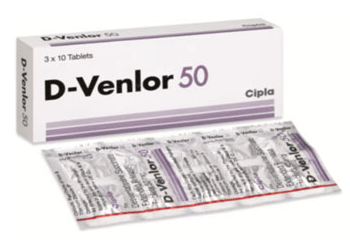 *Product image is for reference only
Brand Choices
Generic Alternatives
Brand Choices
Generic Alternatives
Product of India


Prescription Required
Manufactured by Sun Pharmaceuticals
Product of Canada


Prescription Required
Manufactured by Canada Various Generics
Brand Choices
Generic Alternatives
Product of India


Prescription Required
Manufactured by Sun Pharmaceuticals
Product of Canada


Prescription Required
Manufactured by Canada Various Generics
Pristiq (Desvenlafaxine): MEDICINE INFORMATION
Therapeutic Class: Anti-Depressants: Pristiq (Desvenlafaxine)
Active Ingredient: The active ingredient present in Pristiq is Desvenlafaxine.
Drug Information: Pristiq composed of Generic Desvenlafaxine is a widely used medication for treating the episodes of major depressive disorder.
How does Pristiq work?
Desvenlafaxine is an antidepressant medicine which belongs to selective serotonin and norepinephrine reuptake inhibitors (SNRIs) class of drugs. This medicine affects chemicals in the brain whose levels may get unstable in individuals with depression.
How to take Pristiq?
Take this drug via oral route with or without food, usually one time in a day. The dosage is based on your medical condition and response to treatment. Swallow the whole tablet without breaking, chewing or crushing it. Doing so can release the whole medication at once, enhancing the risk of side effects.
What happens in case of missed dose of Pristiq?
The missed dose of Pristiq is consumed as soon as you remember. However, you may skip the missed dose if it is nearly the time for your next planned dose. Avoid taking an additional medicine to make up for the missed dose.
What are the possible side effects associated with Pristiq?
Common Pristiq side effects may include:
sweating
anxiety
shaking
vision changes
dry mouth
yawning
weakness
drowsiness
dizziness
loss of appetite
constipation
sleep problems (insomnia), etc.
Which other drugs show interaction with Pristiq?
The medications that must not be taken in combination with Pristiq tablet include:
Non-steroidal anti-inflammatory drugs (NSAIDs) for pain, fever, swelling or arthritis including Aspirin, Ibuprofen, Celecoxib, Diclofenac, Indomethacin
Anticoagulants such as Warfarin
MAO inhibitors including Isocarboxazid, Rasagiline, Phenelzine, or Selegiline
Medicines for treating mental illness including Amitriptyline, lithium, Nortriptyline
Medications for migraine headache such as Sumatriptan, Zolmitriptan
What are the safety measures to be kept in mind while using Pristiq?
Do not give Pristiq tablet to anyone under 18 years of age without the advice of a physician.
Avoid exposure to sunlight or tanning beds. Desvenlafaxine can make you sunburn more effortlessly. Also use sunscreen (SPF 30 or higher) and wear protective clothing when you are outdoors
Pristiq has a tendency to pass into the breast milk and may harm a nursing baby. You should not breast-feed while using this drug.
Desvenlafaxine may bring about problems in a newborn baby if the mother consumes this drug late in pregnancy (during the third trimester).
Avoid the use of Pristiq if you are hypersensitive to Desvenlafaxine or similar medications or any of the other excipients in the medicine.
Under what conditions the use of Pristiq is contraindicated?
heart disease, high cholesterol, a history of stroke or high blood pressure
narrow-angle glaucoma
bipolar disorder (manic depression)
liver or kidney disorder
seizures or epilepsy
a bleeding or blood clotting disorder
low levels of sodium in your blood
if you are switching to Pristiq from another antidepressant medication
Is it safe to buy Pristiq from a Online Pharmacy?
If you are looking to buy Pristiq or any prescription drugs from an Online Pharmacy in USA then you can order from a safe and accredited International pharmacy like MedsEngage, which contracts with Canadian Pharmacy and pharmacy in India. you requires a valid prescription for your prescription drugs.