This drug is a beta-blocker that is used to treat high blood pressure, irregular heartbeats, tremors, and other symptoms. It's given after a heart attack to help people live longer. It's also used to keep migraines and chest pain at bay (angina). Strokes, heart attacks, and kidney issues can all be prevented by lowering blood pressure. This medication works by inhibiting the function of certain natural chemicals in your body that influence your heart and blood vessels (such as epinephrine). The heart rate, blood pressure, and strain on the heart are all reduced as a result of this effect. Select your dosage below to view available brand and generic Inderal cost and place your order. Save up to 90% by using our Propranolol coupon.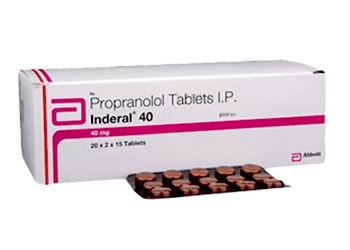 *Product image is for reference only
Buy Inderal (propranolol) Online
: Medicine Information
Therapeutic Class: Blood Pressure/Heart: Inderal (Propranolol)
Active Ingredient: The active ingredient in this medicine includes Propranolol.
Drug Information: Inderal (Propranolol) is prescribed to the patients suffering from high blood pressure, irregular heartbeat, chest pain from angina and shaking (tremors). By blocking the certain natural chemicals in the body that affect the heart and blood vessels, it prevents strain on the heart and reduces blood pressure while averting the chances of strokes, heart attacks and kidney problems. People having migraine headaches may also take this medication.
How should I use Inderal?
This medication needs to be taken by mouth (before meals) usually 2 to 4 times a day, as suggested by your healthcare professional. The dosage is determined by your medical condition and response to treatment. Please note that this drug is meant to prevent chest pain or migraines, however it should not be taken to treat immediate pain as it occurs.
Taking your medication in a timely manner is important to avail its most benefit. Never stop taking your medication without informing your doctor even if you have started feeling well.
Overdose: If you have taken overdose of this medication and experiencing decreased heart rate, severe drowsiness and fainting, report to a poison control center immediately. Never give your medication to others at it is prescribed to you depending on your medical condition.
What if I miss a dose of Inderal (Propranolol)?
You can take the missed dose as soon as you recollect. If the time gap between the missed and next dose is fewer, then better skip the missed dose and follow daily dosing timetable. Never take double dose to make up for the missed dose as it can result in side effects.
What may interact with Inderal (Propranolol)?
Taking different drugs may put you at the risk of drug interaction which may have fatal effects. Therefore, always keep your doctor informed about prescription/non-prescription drugs and herbal supplements you are taking. Some of the drugs which you should not take with Inderal are atropine, prazosin, cimetidine, fluoxetine, HIV protease inhibitors, scopolamine, chlorpromazine, clonidine, hydralazine, methyldopa, epinephrine, haloperidol, digoxin, warfarin, mefloquine, theophylline, etc.
This is not a comprehensive list of all drugs that can interact with propranolol. Ask your doctor before taking any new drug.
What side effects may I notice from receiving Inderal (Propranolol)?
Tell your doctor at once if you notice any of the mentioned side effects:
Dizziness
Trouble sleeping
Vomiting
Vision changes
Stomach pain
Mood changes
Blue finger/toes
Numbness
Worsening symptoms of heart failure
Unusual tiredness
Very slow heartbeat
Decreased sexual ability
Increased urination
Easy bruising
Signs of infection
Trouble breathing, etc.
Other side effects may occur as well.
What should I tell my healthcare provider before I take Inderal (Propranolol)?
Inform your doctor if you are suffering from or have a medical history of heart failure, breathing problem, overactive thyroid, kidney disease, liver disease, blood circulation problem, depression, pheochromocytoma or myasthenia gravis. Also tell your doctor if you are allergic to propranolol or other beta blockers. During pregnancy and breast-feeding, take this medication when clearly needed.
Is it safe to buy Inderal from a Online Pharmacy?
If you are looking to buy Inderal or any prescription drugs from an Online Pharmacy USA then you can order from a safe and accredited International pharmacy like MedsEngage, which contracts with Canadian Pharmacy and pharmacy in India. you requires a valid prescription for your prescription drugs.
Inderal Coupons Available?
Take advantage of this Propranolol Coupon, available only at our Canadian Pharmacy Online! We help lower your Brand Inderal and Generic Inderal price with our helpful Pharmacy coupons. For coupons, please visit our Prescription Coupon page.