Acute lymphoblastic leukemia, chronic myeloid leukemia, gastrointestinal stromal tumors, and myelodysplastic/myeloproliferative disorders are among the cancers treated with this drug. It works by slowing or preventing cancer cell proliferation. Other medications' elimination from your body may be slowed by this medication, which may impact how they perform. Flibanserin, irinotecan, lomitapide, and warfarin are some of the medicines that are affected. Because Imatinib is highly concentrated in plasma proteins, dialysis is unlikely to be effective in eliminating it.
Select your dosage below to view brand and generic Gleevec cost and place your order. Save up to 80% on Imatinib price using our Gleevec coupon online.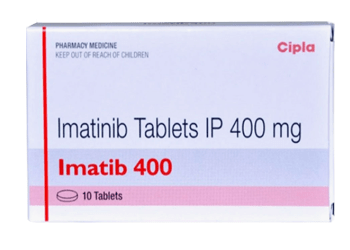 *Product image is for reference only
Brand Choices
Generic Alternatives
Brand Choices
Generic Alternatives
Product of United Kingdom


Prescription Required
Manufactured by UK Various Generics
Product of Canada


Prescription Required
Manufactured by Canada Various Generics
Product of India

Prescription Required
Manufactured by Cipla Limited
Brand Choices
Generic Alternatives
Product of Canada


Prescription Required
Manufactured by Canada Various Generics
Product of India

Prescription Required
Manufactured by Cipla Limited
Buy Gleevec (Imatinib) Online : Medication Information
What is Gleevec (Imatinib)?
Gleevec (Imatinib) is a prescription medicine from the tyrosine kinase inhibitor class (TKI) used to treat certain immune system disorders.
What is Gleevec (Imatinib) used for?
Gleevec is a prescribed medication used to treat certain disorders and symptoms of Acute lymphoblastic leukemia, chronic myeloid leukemia, gastrointestinal stromal tumors, and myelodysplastic/myeloproliferative disorders. Additionally, skin cancer can also be treated using it.
How does Imatinib work?
Tyrosine kinase enzymes play essential roles in various cellular processes, such as cell signaling (communication), growth, and division. Gleevec inhibits (or prevents) Tyrosine kinase enzymes in the body. This hinders the development, growth, and proliferation of cancer cells.
Direction for Use:
How to use Imatinib?
Follow your doctor's instructions and take this medication by mouth once or twice daily with food and a glass of water. Don't chew or break the tablet. The tablets can be dissolved in a glass of water or apple juice if you have problems swallowing them as a whole.
What is the different dosage available for Gleevec?
It is available as an oral tablet of 100mg and 400mg.
What is the recommended dosage for Gleevec?
Once daily oral administration of 400 mg or 600 mg is the usual starting dose. The recommended dosage is 400 mg, taken orally twice a day.
What if you forget to take a dose of Gleevec?
If you forget to take this medication or remember it the same day, take it as soon as you remember. Wait until your next dose is planned. If you don't remember until the following day, take it the following night.
Precautions for Imatinib:
Before taking it, what should you know about Gleevec (Imatinib)?
Inform your doctor or pharmacist if you have any allergies before taking imatinib, including those to other medications. Inactive chemicals in this product can trigger allergic reactions or other issues. Consult your physician for more information.

Inform your doctor or pharmacist about your medical conditions before using this drug, especially if you have ever had bleeding issues, cardiac issues (such as heart failure), kidney or liver illness, or thyroid gland removal.

It may result in decreased blood cell levels. Therefore your doctor may recommend routine blood tests so that he/she can check for any side effects.
Side-Effects of Gleevec:
What are the side effects of Gleevec (Imatinib)?
Some common side effects include:
Upset stomach

Nausea/vomiting

Diarrhea

Headache

Muscle/joint pain, muscle cramps

Dizziness, or drowsiness

Blurred vision
If you experience any of the following severe side effects, consult your doctor:
Swelling of the hands, feet, ankles, and abdomen

Black or bloody stools

Signs of liver disease, such as persistent nausea, vomiting, and loss of appetite.

Severe skin reactions include hives, blisters, a rash, and peeling skin.
Interaction with Gleevec:
Does this medication interact with other drugs, foods, or alcohol?
Never start, stop, or change the dosage of any medications without your doctor's approval. How slowly this drug is removed from your body may change other medications' effectiveness. Drugs like flibanserin, irinotecan, lomitapide, and warfarin are examples of those that show interactions with Gleevec.
Storage:
How should this medication be stored?
Gleevec( Imatinib)should be stored in a firmly sealed container away from light at room temperature, heat, moisture, and reach of the children. The Gleevec ( Imatinib) should be stored at room temperature.
Other Important Information:
Imatinib may increase your risk of infection or exacerbate any existing infections. Stay away from persons who may be infected and infect others with diseases such as chickenpox, measles, flu, etc.

Women who are pregnant or who may become pregnant should not handle this medication since it can be absorbed through the skin and lungs and may harm an unborn child.

Your blood cell counts, particularly those of your white blood cells, which are crucial for your immune system to fight off infections, platelets, and Imatinib (Gleevec), can decrease while taking this medication (necessary for blood clotting). As a result, you can feel exhausted, get sick more frequently or quickly, or bleed or bruise more easily.

When taking imatinib, you could develop blurred vision, sleepiness, or vertigo (Gleevec). Avoid using machinery or driving until you understand how this drug affects you.

While using imatinib, avoid grapefruit and grapefruit juice. It can increase the amount of medication present in your body.
What is the average Gleevec Cost?
Imatinib (Gleevec) is offered as a generic drug and may be considerably less expensive than the brand-name version. The generic medication will be more cost-effective unless there is a particular reason why you must have the brand. Gleevec cost can be up to $1000 as a branded medication, but if you look for a generic version, the Imatinib price can be as low as $150.
Buy Imatinib Online at a reduced Imatinib price:
You can buy Imatinib from online Pharmacies such as MedsEngage. It is an online Canadian pharmacy store that provides prescribed medications at an affordable cost worldwide. You can get a discount on the Gleevec cost through coupon codes and other patient aid programs. If you want to avoid the hassle of placing a repeat order for the prescription and saving money on Imatinib price, you can choose a 90-day supply or an auto-refill option.
What are the different options to lower the Imatinib price?
Apart from the discounted coupons and insurance plans, Patient assistance programs (PAPs) are also offered as manufacturer coupons. These are funded by pharmaceutical firms and offer free Gleevec may be less expensive for heavily discounted medications to low-income, uninsured, and underinsured individuals who comply with specific requirements. Each program has a different set of eligibility requirements which can be checked online from their websites.
Why is Gleevec so expensive in local pharmacies?
The pharmaceutical firms, the Food and Drug Administration, drug wholesalers, and specific medication pharmacies are among the groups to blame. A prescription has to travel a long chain of distribution before it is in the hands of the customer. The average local US pharmacy Brand Imatinib price is around $8,884 for a supply of 90 tablets. You can save on this Gleevec cost by a printable coupon, rebate, savings card offered by these local pharmacies.
FAQs:
How soon does Imatinib begin to have an effect?
The median period for disease progression to be controlled on Imatinib is about 2 years, and the average time to respond for reduction symptoms is about 3 months.
Does Imatinib impairs the immune system?
Imatinib may have immunosuppressive effects by preventing antigen presentation and T-cell effector activities since this decreased T-cell function was confirmed to cause delayed-type hypersensitivity.
Does Gleevec result in hair loss?
Gleevec may result in hair loss. Hair loss brought on by cancer medicines like Gleevec is typically transient. This means that after you stop taking Gleevec, any hair you lose will probably grow back.
What Gleevec side effects are most prevalent?
It's possible to get an upset stomach, nausea or vomiting, diarrhea, headaches, muscle or joint discomfort, cramps, dizziness, blurred vision, or sleepiness. If these adverse effects last longer than expected or worsen, let your doctor or pharmacist know immediately. Serious side effects are possible for those taking this medicine.
What happens if Gleevec is stopped?
Quitting Gleevec medication may result in withdrawal symptoms, including itching or bone discomfort. Additionally, discontinuing treatment may worsen your cancer. Your cancer symptoms may worsen if you are using Gleevec. Therefore, even if you feel better, consult your doctor before stopping Gleevec.
Is It Safe To Buy Imatinib online From an Online Pharmacy?
If you are looking to buy Imatinib online or any prescription drugs from an Online Pharmacy in the USA then you can order from a safe and accredited International pharmacy like MedsEngage, which contracts with Canadian Pharmacy and pharmacy in India. You require a valid prescription for your prescription drugs.
Is Gleevec Coupon Available?
Take advantage of this Gleevec Coupon, available only at our Canadian Pharmacy Online! We help lower your Branded and Generic Imatinib price with our helpful Pharmacy coupons. For coupons, please visit our Prescription Coupon page.
What is the mode to buy Gleevec (Imatinib) online?
It is now easy to buy Imatinib online at the best Imatinib price by placing an order at MedsEngage Pharmacy. People can directly place the order at medsengage.com or can chat with our customer care representatives. For more information, people can visit the How to Order page on medsengage.com.
How can patients buy Gleevec (Imatinib) Online?
Yes, licensed doctors advise to buy Imatinib online after a medical evaluation. Patients can speak to their online physicians to get more knowledge about the disease. Physicians give a prescription to their patients and after patients can share the prescription for Gleevec (Imatinib) with us via email, fax or upload over the website.
Is a prescription required to buy Imatinib online?
As we are a Certified Canadian pharmacy online so we required a prescription for Gleevec (Imatinib) that can only be bought with a prescription provided by doctor. While processing the order for Gleevec (Imatinib), it is better to get a valid prescription from the concerned healthcare provider. The copy of the prescription can be scanned, emailed, or uploaded directly at MedsEngage so you get the best Gleevec cost.
What is the maximum quantity of Gleevec (Imatinib) that can be ordered?
90-days supply is the maximum amount of Gleevec (Imatinib) that can be ordered online from MedsEngage at a time. The quantity is based upon the directions and amount stated in the provided medical prescription. Refilling of medication is also there for future conditions.
How about the safety of ordering Gleevec (Imatinib) online from MedsEngage?
As a certified Canadian Pharmacy, MedsEngage is a totally safe and secure online way to order Gleevec (Imatinib). It works similarly just like any conventional pharmacy. MedsEngage Pharmacy serves safe and reasonable prescription medications to individuals. You just only need to have your prescription of Gleevec (Imatinib) from a licensed doctor and we will provide you best Gleevec cost.
What about coupons for Gleevec (Imatinib)?
Yes, Gleevec coupon is available at MedsEngage Pharmacy. Gleevec Coupons offer an extra discount to people to save more on Imatinib price. People can make use of the coupon code mentioned on the MedsEngage pharmacy coupon page. They can use the Gleevec (Imatinib) coupon at checkout to attain swift discounts so that they can pay less for their Gleevec cost.
Does MedsEngage Pharmacy have an option of express shipping?
An express shipping option is present when you buy Imatinib online with MedsEngage Pharmacy for Gleevec (Imatinib). The expedited delivery time to ship medicines is seven to twelve business days. People can check this option at the checkout page while processing their order of Gleevec (Imatinib).