Crestor (Rosuvastatin Calcium)
It is a drug that, when used with a healthy diet, can help lower "bad" cholesterol and fats (such as LDL and triglycerides) while increasing "good" cholesterol (HDL). It works by lowering the amount of cholesterol the liver produces. Lowering "bad" cholesterol and triglycerides while increasing "good" cholesterol helps to avoid heart disease, strokes, and heart attacks. Other lifestyle modifications that may help this medication work better include exercising, decreasing weight if overweight, and quitting smoking, in addition to eating a good diet (such as a low cholesterol/low-fat diet). Select your dosage below to view available brand and generic Crestor cost and place your order. Save up to 90% by using our Rosuvastatin coupon.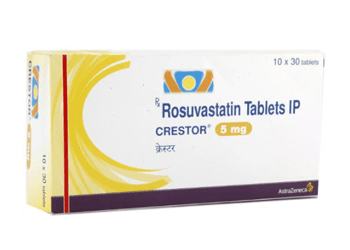 *Product image is for reference only
BUY CRESTOR (ROSUVASTATIN CALCIUM) ONLINE : MEDICINE INFORMATION
Therapeutic Class: Cholesterol Care: Crestor (Rosuvastatin Calcium).
Active Ingredient: The active ingredient in this medicine includes Rosuvastatin Calcium.
Drug Information: Belonging to a drug class of 'statins', Crestor is used to lower bad cholesterol and fat in the blood. When this medication is taken with proper diet and other lifestyle changes, it turns down the cholesterol made by liver and raises good cholesterol to further prevent the risk of stroke and heart attack.
How should I use Crestor?
Usually this medication is taken once daily with or without food as directed by your doctor. Your medical condition, response to treatment, age and race are the factors in deciding dosage of this medication. Also follow up with your doctor about diet and exercise.
Overdose: If you think you have overdosed this medication, contact a poison control center right away. It is important to note that the doctor has prescribed Crestor to you so don't share this medicine with others.
What if I miss a dose?
If you have missed a dose, take it as soon as you recollect. However, if there is not much time left for your next dose (minimum gap between the two doses should be 12 hours), better skip the missed dose and follow your daily dosing schedule.
What may interact with Crestor (Rosuvastatin Calcium)?
Drugs that may interact with Crestor comprise warfarin, gemfibrozil, ledipasver, sofosbuvir, cyclosporine, fusidic acid, teriflunomide, darunavir-cobicistat, glecap-pibrent, niacin, daptomycin, selected fibrates, stiripentol, oral tedizolid, talazoparib, digoxin, selected protease inhibitors, simeprevir, safinamide, teriflunomide, regorafenib, eltrombopag, among others.
Above list does not contain all possible drug interactions. Also, discuss with your doctor all about your prescription/non-prescription drugs and herbal supplements. It is better to avoid red yeast rice products while taking Crestor as it increases the risk of side effect.
What side effects may I notice from receiving Crestor (Rosuvastatin Calcium)?
In case, you feel anything unusual, report to your healthcare professional immediately. Crestor may cause some side effects that include:
Muscle pain

Tenderness

Weakness

Headache

Abdominal pain

Signs of kidney problem

Nausea

Memory loss

Confusion

Yellowing eyes or skin

Dark urine

Rash

Swelling of the face

Severe tiredness

Trouble breathing etc.
Always seek medical advice if any side effect bothers you or does not go away.
What should I tell my healthcare provider before taking Crestor (Rosuvastatin Calcium)?
If you are allergic to rosuvastatin or have any other allergies, tell your doctor. Informing about medical history, especially of liver disease, kidney problem and alcohol use is equally important. Crestor is not recommended for pregnant women and breastfeeding mothers.
Please note that old people are more at risk of side effects from this medicine, especially of muscle problem.
Why is Rosuvastatin so expensive in local pharmacies?
The average local US pharmacy price of Brand Crestor is about $265 for 30, 10mg tablets. You can save on this cost by using our generic medicine. Through MedsEngage, the cost of generic Crestor 10mg, 30 tablets is around $8.45. Use MedsEngage Crestor coupon to lower your prescription costs by 5% further.
Is it safe to buy Crestor from a Online Pharmacy?
If you are looking to buy Crestor online or any prescription drugs from an Online Pharmacy in USA then you can order from a safe and accredited International pharmacy like MedsEngage, which contracts with Canadian Pharmacy and pharmacy in India. you requires a valid prescription for your prescription drugs.
Rosuvastatin Coupons Available?
Take advantage of this Crestor Coupon, available only at our Canadian Pharmacy Online! We help lower your Brand Crestor and Generic Crestor price with our helpful Pharmacy coupons. For coupons, please visit our Prescription Coupon page.