Omeprazole is a drug that is used to treat stomach and oesophageal issues (such as acid reflux, ulcers). It works by lowering the quantity of acid produced by your stomach. It helps symptoms like heartburn, swallowing difficulties, and a persistent cough.
Select your dosage below to view available brand and generic Prilosec cost and place your order. Save up to 90% by using our Omeprazole coupon.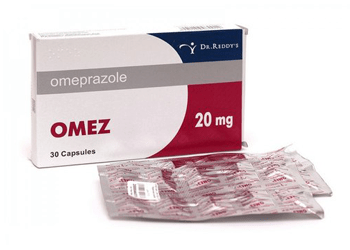 *Product image is for reference only
Prilosec (Omeprazole): MEDICINE INFORMATION
Therapeutic Class: Antacid/Heartburn: Prilosec (Omeprazole)
Active Ingredient: The active ingredient present in Prilosec is Omeprazole.
Drug Information: Prilosec is the trade name for medication, Omeprazole. It is used to treat certain stomach as well as esophagus problems (similar to GERD or acid reflux, ulcers).
How does Prilosec work?
Omeprazole works by reducing the amount of acid your stomach manufactures. It helps in relieving the symptoms including heartburn, trouble while swallowing, as well as constant cough. Omeprazole assists in healing acid damage to the stomach and esophagus, aids in preventing ulcers, along with helping in preventing cancer of the esophagus. The medicine falls under the category of drugs known as proton pump inhibitors (PPIs).
How to use Omeprazole?
Take Omeprazole orally once daily, prior to meals. Do not crush, break, or chew the capsule of Omeprazole and take it as such. The best time to take this drug is morning. You are required to take the capsule on an empty stomach. Remember: one tablet or capsule is your maximum recommended dose for 24 hours duration.
What happens if you miss a dose of Prilosec?
The missed dose of Prilosec must be consumed as soon as you remember. However, you may skip the missed dose if it is nearly the time for your next planned dose. Avoid taking an additional medicine to make up for the missed dose.
Side effects:
Call for an emergency medical help if you experience side effects such as hives, facial puffiness, breathing problems, and inflamed mouth after using Omeprazole. The medication may also cause low magnesium signs, such as:
Choking feeling
Muscle weakness
Muscle cramps
Jerky movements in muscles
Dizziness
Cough
Watery and/or bloody diarrhea
Irregular and fast heart rate
Convulsions
Confusion
Drug-Drug Interactions:
If you require Omeprazole, you must take it only when your doctor advices you, as the drug may interact with some other medicaments. Your doctor will tell you which medications can't be taken with Prilosec capsule or whether you need a dosage adjustment. On the whole, the medicine is shown to badly interact with the following:
Clopidogrel
Tacrolimus
Cyclosporine
Nelfinavir
Ampicillin
Diazepam
Phenytoin
Digoxin
Diuretics
Disulfiram
Voriconazole
Ketoconazole
Rifampin
Saquinavir
Atazanavir
Warfarin
What are the safety measures to be implemented while taking Prilosec tablet?
If you are having a history of conditions such as osteopenia or osteoporosis; then take Omeprazole only after consulting a doctor discussing all the possible risks and benefits.
Children are thought to be more sensitive to the ill effects of Omeprazole, in particular fever, cough, and infections of the nose or throat; thus avoid giving this drug to them.
Store the medication at room temperature away from sunlight, heat and moisture.
If you have a frequent chest pain, then avoid the use of Prilosec capsule.
After taking Prilosec tablet, you may attain an infection. So, not to worry and immediately contact a nearby doctor for medical attention.
Is it safe to buy Viread from a Online Pharmacy?
If you are looking to buy Prilosec or any prescription drugs from an Online Pharmacy in USA then you can order from a safe and accredited International pharmacy like MedsEngage, which contracts with Canadian Pharmacy and pharmacy in India. you requires a valid prescription for your prescription drugs.